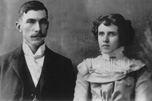 Henry Faupel (1873 Illinois-1960 Nevada) and Ella May Wiseman (1880 Kansas-1962 Nevada) on their wedding day 3 Jul 1900 in Raton, New Mexico (photo from David Plowman's tree on Ancestry)
Welcome!
This tree is a frozen snapshot of my Faupel-Schultz tree on Ancestry, which is the master version. There are many trees with more robust recent family reflected. My main focus is on pushing back some of the older ancestors. All living people are without names or other information. So search for your parent or grandparent who has passed on. I have not tried to capture all the living members, so that many people in recent generations are not in the tree.
The current version was downloaded from Ancestry 18 Aug 2017 and contains 1,290 people in 398 families with 153 image files. Be sure to use the pulldown menus at the top right to see different ways of looking at the database.
For those who have an Ancestry account, Emil Carl Schultz (1897-1974) is at http://trees.ancestry.com/tree/12540432/person/26097784357 and you can click on that to see him and then navigate to anyone else within the tree.
NOTE FOR PRINTING CHARTS: In order to have the generation-connecting lines appear on printouts of some charts, change your browser's Page Setup setting to print background colors.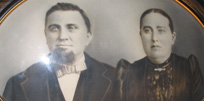 Johann Carl Christoph Friedrich Schultz (1846-1910) and his second wife Anna Maria Dorothea Caroline "Mary" Krogmann (1865-1926) (photo of original framed portrait owned by Carlas Schultz)
Top 100 Surnames in Our Family Tree