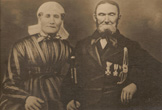 Jannes Gerrits van Wijk (1798-1872) and Janke Tjittes Smit (1800-1878), his second wife
Jannes is wearing his medals from Napoleon III and the Dutch king and the MWO lanyard signifying he had been knighted.
When the Netherlands were under France, he fought in Napoleon's army in Spain. After Napoleon's overthrow, he joined the Dutch militia and fought against Napoleon at Waterloo.
Welcome!
This tree is a frozen snapshot of my Terug in de Tijd tree on Ancestry, which is the master version. The tree is named in honor of my Boezel cousin Nelline Simons of the Netherlands, who died all too young, who had named her public tree "Terug in de Tijd".
All living people are without given names or other information, but you may be able to find yourself. However, I have not tried to capture all the living members, so that many people are not in the tree, in which case you will need to find one of your parents or grandparents.
This version's snapshot was download from Ancestry 14 Oct 2016 and has 1,544 people in 505 families.
The tree now includes extended coverage of the Irish Cunnea family, since some of their descendants also have Dutch ancestry and since the mitochondrial DNA direct maternal line of our Cunnea family members is Dutch.
For those who have an Ancestry account, our knighted ancestor Jannes van Wijk (1789-1872) is at http://trees.ancestry.com/tree/14945597/person/190887905 and you can click on that to see him and then navigate to anyone else within the tree.
NOTE FOR PRINTING CHARTS: In order to have the generation-connecting lines appear on printouts of some charts, change your browser's Page Setup setting to print background colors. Some charts will not print properly in Firefox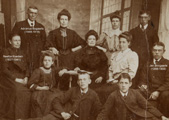 Adrianus Bogaarts was the brother of my ancestor Frans Bogaerts, for whom I have no photos. The boys in the picture all took different spelling variants of the name, just as Adrianus and Frans had. (Photo thanks to my cousin Carla Roelofs - descendant of Adrianus - and her husband Hans of Dordrecht)
Top 100 Surnames in Our Family Tree